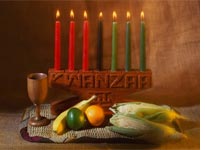 No, that's not a menorah, it's a Kwanzaa Kinara, or candleholder.
I love Kwanzaa. Really. It's so Jewish! You'd think a Reconstructionist rabbi made it up. (Reconstructionist Judaism invented the bat mitzvah -- bar mitzvah for girls -- and tends to be rather free-wheeling in its interpretation and translation of Jewish ritual and Jewish liturgy.) But no, Kwanzaa was conjured up in 1966 by Dr. Maulana (Ron) Karenga, former chair of the black studies department at California State University, Long Beach, to "reaffirm and restore our rootedness in African culture."
Kwanzaa means "first fruits." Funny, but first fruits is what Jews celebrate in the Spring at Shavuot (sha-voo-OAT). In fact, in Reform Judaism we confirm of our 10th or 11th graders in the faith at Shavuot calling them First Fruits.

Get over that Kwanzaa is a made-up holiday.

True, Ron Karenga (left) was a pretty intense guy back in the 60's and his conception of the holiday was, frankly, Marxist and Black Nationalist. But some 35 years later, Kwanzaa has evolved into a much more benign cultural celebration. Today it is a festival straight out of Bill Cosby's Huxtable family. Embrace the anti-consumerism -- no gifts are given at Kwanzaa. Instead there is feasting, sharing meals, and a broad community focus.
Actually, In 1997, Karenga changed his position, stating that while Kwanzaa is an African-American holiday, it can be celebrated by people of any race: "other people can and do celebrate it, just like other people participate in Cinco de Mayo besides Mexicans; Chinese New Year besides Chinese; Native American pow wows besides Native Americans."
Just imagine how wonderful the world would be if all people fulfilled Kwanzaa's 7 core values over the 7 days of the holiday.
Umoja (oo-MO-jah) Unity stresses the importance of togetherness for the family and the community, which is reflected in the African saying, "I am We," or "I am because We are."
Kujichagulia (koo-gee-cha-goo-LEE-yah) Self-Determination requires that we define our common interests and make decisions that are in the best interest of our family and community.
Ujima (oo-GEE-mah) Collective Work and Responsibility reminds us of our obligation to the past, present and future, and that we have a role to play in the community, society, and world.
Ujamaa (oo-JAH-mah) Cooperative economics emphasizes our collective economic strength and encourages us to meet common needs through mutual support.
Nia (NEE-yah) Purpose encourages us to look within ourselves and to set personal goals that are beneficial to the community.
Kuumba (koo-OOM-bah) Creativity makes use of our creative energies to build and maintain a strong and vibrant community.
Imani (ee-MAH-nee) Faith focuses on honoring the best of our traditions, draws upon the best in ourselves, and helps us strive for a higher level of life for humankind, by affirming our self-worth and confidence in our ability to succeed and triumph in righteous struggle.

The greeting for each day of Kwanzaa is "Habari Gani", Swahili words for "What's the News?"